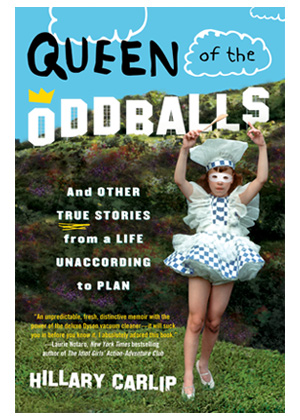 This week has been fabbos.
I got mail from Hilary Carlip.
For those of you who don't know who this dee-lish woman of fabulousness is, she's an amazing authoress, she's a whole lot of other cool stuff too but I love her mostest for her work with young women, especially her book Girl Power.
So good.
You can find out all about her and her crazy, fun-filled life in her new book Queen of the Oddballs. It's available on Amazon.com - go buy it!
So imagine how excited I was to get real-life mailage from her? I'm totes besides myself!
I got sent my very own copy of her book along with some other Hilary treats in a bumper bonanaza, and get this, she's diggin' on pink-world and Think Pink so much that she's agreed to come play in the world o' pink in the new year - I cannot wait!
For a crash course in all things HC - visit www.queenoftheoddballs.com
Monday I was chasing prizes for Think Pink goody bags. Oh, we've got some fab ones, stay tuned for how you can get your hands on them - it'll be a book launch/web launch mash up!
I've also lined up some too-cool-for-school interviewees for the new site - Lau@Heidiseeker.com is making a star appearance and will be hosting a competition you WILL NOT want to miss, the supes talented illustrator girl, Holly Lloyd will be taking us behind the scenes of how she made Lola Love and the pink ladies look so damn pretty and Poppy and the Jezabels - our new favourite girl group - will be rockin' and rulin' in pink-world and that's just for starters...
The new site is going to be totally coolio-a-go-go.
Fact.
It'll be launched on the same day as the book, 3rd January so there is absolutely no excuse for your January to be blue...Buy the book, log on to the site, become a Pink Lady and you'll be splashing around in all things pink, sparkly and fabulous all year long!
In other news: I took part in some totes cool training on Tuesday.
Yep, you heard right, training that wasn't borin' snorin'!
It's positivity training, 'coz even pink thinkin' life coach types need regular doses of training to keep us tip top and tutti frutti.
I then hung out with my dee-lish friend Sarah who was also on the training, everyone should have a Sarah Chevverchops in their world.
She rocks.
She had also done me a copy of the Wicked soundtrack - which, for that reason alone I love her for, it is now on my ipod and on repeat.
We read trash mags and found out that:
Britney is showing her floo floo and hanging out with Paris
TomKat are now happily married
Katie and Pete Andre are all about the domestic bliss (I heart them so much and am more than hoping the man has bought me the album for Christmas, so, I'm cheesy, whatchagonnadoboutit?)
Danny Mcfly has ditched his hair straighteners
and other such world changing events....
We skipped from convo to convo, as we always do, before heading out to our work Christmas dinner - I know, how early?
Mr Swanksville arrived with the adoreable miss Sally looking like Simon Cowell and Sharon Osbourne, except Swanks wears his trousers at a decent height and Miss Sally is total glamazonia compared to Sharon...All the lovely ladies from the office had arrived a few hours earlier and were all about the Christmas spirit - think Gin, think Vodka. It was fun time frankies and I had the yummiest chocolate brownie dessert...
I love me a social event!